St. John's Blog
---
Posts from our building program in 2015
Posted by St. John's Highton 1st June, 2015,

All our building work is soon to be complete. We're now less than 2 weeks away from returning (our first Sunday service back on site is 14th June 8am, 10am, 5pm). Today's work includes the installation of our new entry Canopy, continued work (and a little re-work) with concreting, as well as many small details inside (the Parents room to Old Church 'link' for example). Its exciting to be this close to returning. As with most building projects, we're anticipating that there'll still be a little work to do once we return (landscape gardening, purchasing some furniture, etc) but from 14 June it will be all systems go (especially with our Kids Club holiday programdue to begin on June 29th).
The South Valley Rd carpark is ready for concrete curb and channel work, and the courtyard just beyond is soon to have synthetic grass installed.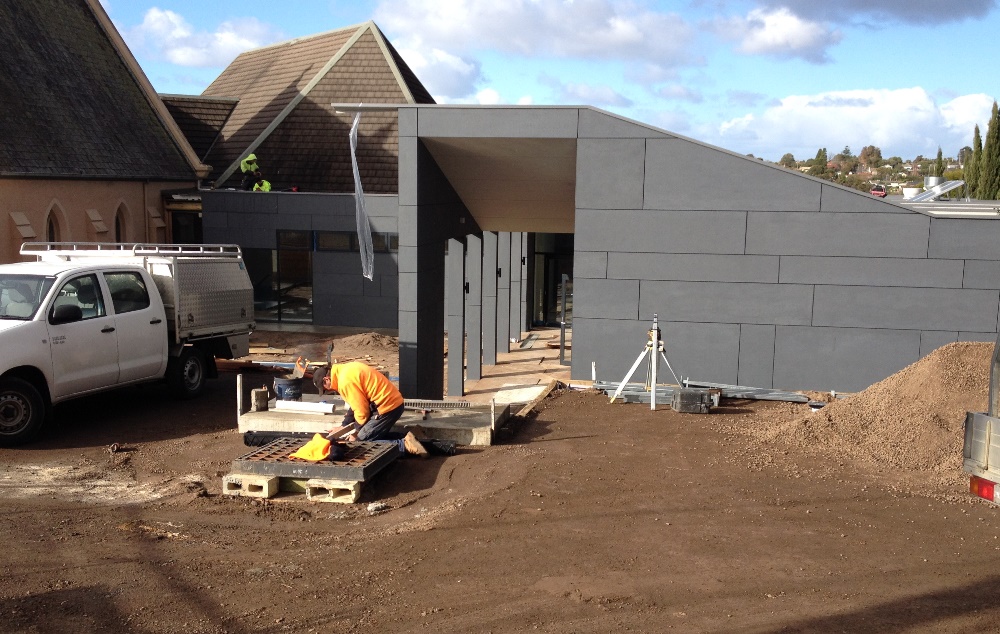 What a great improvement to our South Valley Rd entrance this is (if you compare with what it used to look like). Much more obvious where the entrance is, much more people-friendly - what a church of God's people should be like!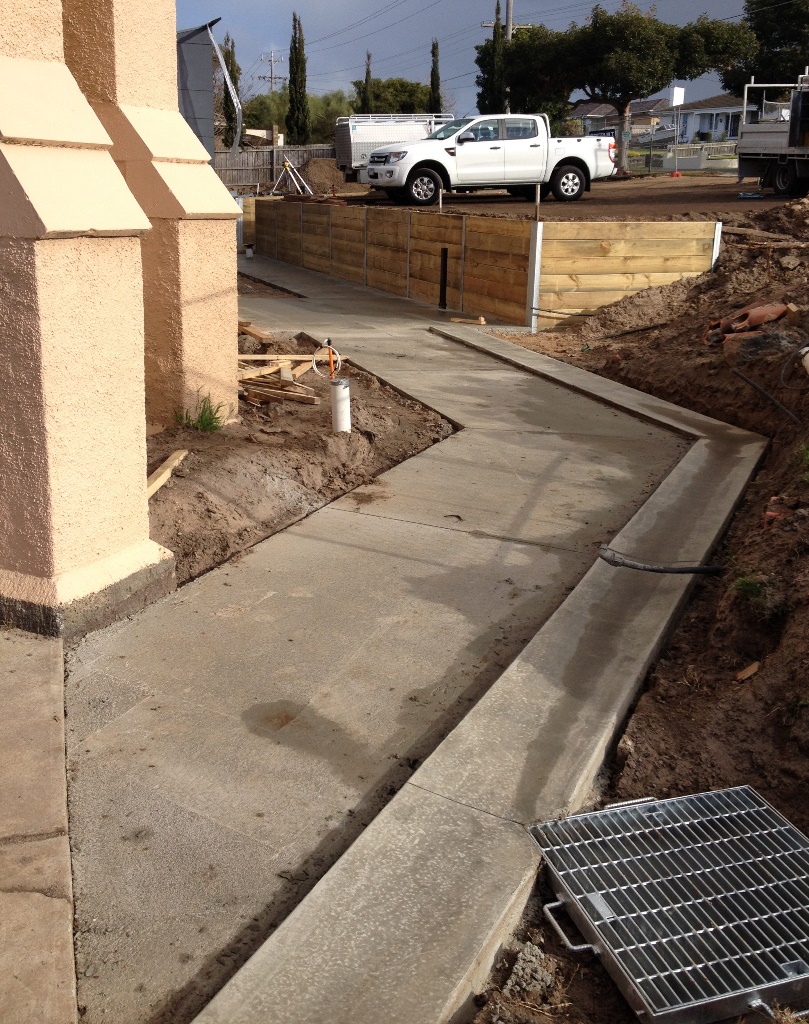 A big day of concreting last Friday now sees most of our new paths and stairways and drains and ramps in place. These are due to be covered in blue-stone pavers shortly.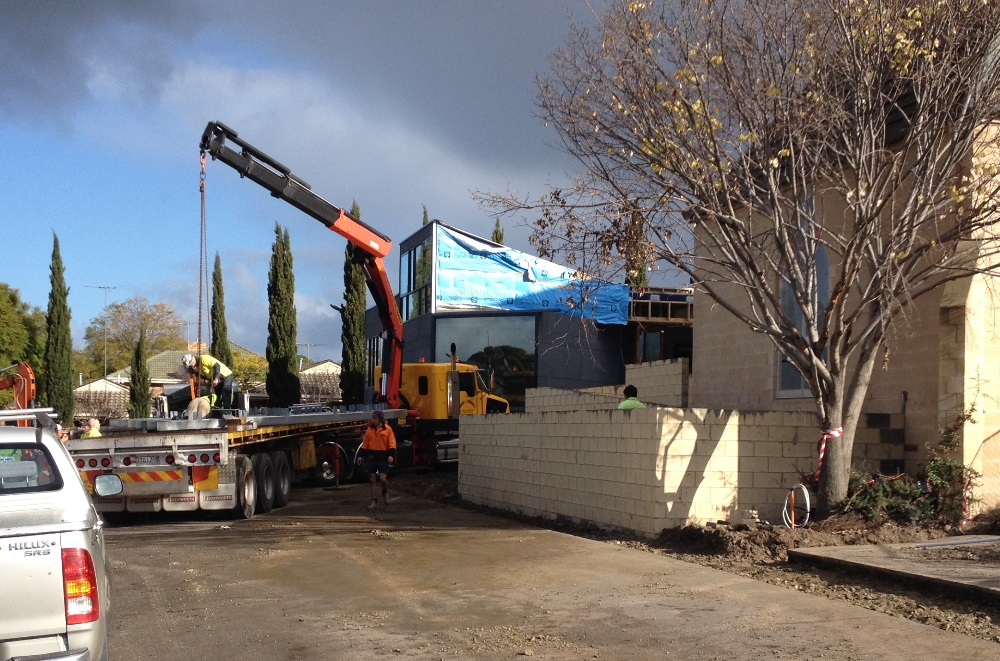 The final piece of our Prebuilt puzzle: the entry-way canopy has arrived and is being installed.
Funding update: praise God for the progress on this front also. As of Sunday 31st May our ourstanding balance is just a little over $60,000. We're nearly there!
More info on our Building Projectpage.
---
A sneak peek inside our almost-complete new buildings
Posted by St. John's Highton 4th May, 2015,

Late last week we got to have a sneak peak of all the action happening inside our new buildings, as the various tradies fit out these great new facilities.

The below video (a bit patchy sorry) gives you a peek inside.

You're invited to come and join us for our first Sunday on May 31st: 8am, 10am and 5pm.

We're also planning a series of larger and smaller 'housewarming' events throughout the months of June, July and August. Events like youth group pizza night and reunion, Bowls Club tour and morning tea, a musical soiree, and more. We'll update this blog and our facebook pagewhen the events have a date and some info.

Our new buildings are being fitted out - May 2015from St Johns Hightonon Vimeo.

 
---
The full set of new building modules are now installed!
Posted by St. John's Highton 23rd April, 2015

The huge work crew made short work of final module installations this morning, completing the set by 11am!

The four remaining modules were lined up and ready for unloading at 7am, having driven down from Kilsyth in the middle of the night.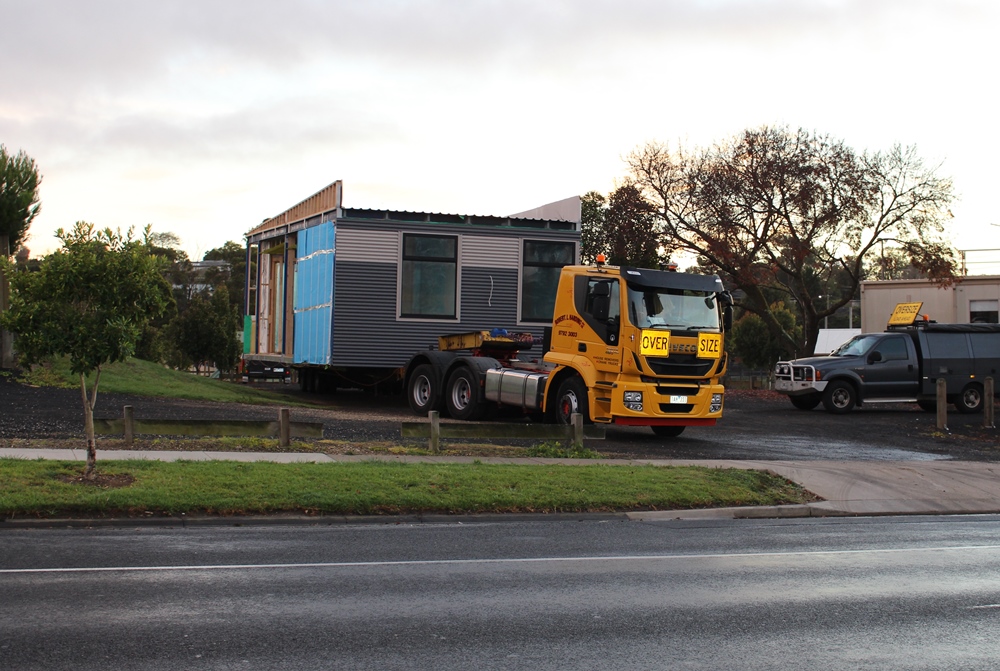 Here comes the Kitchen (you can see both servery windows), along with the doors and walkways connecting to the foyer (left hand side).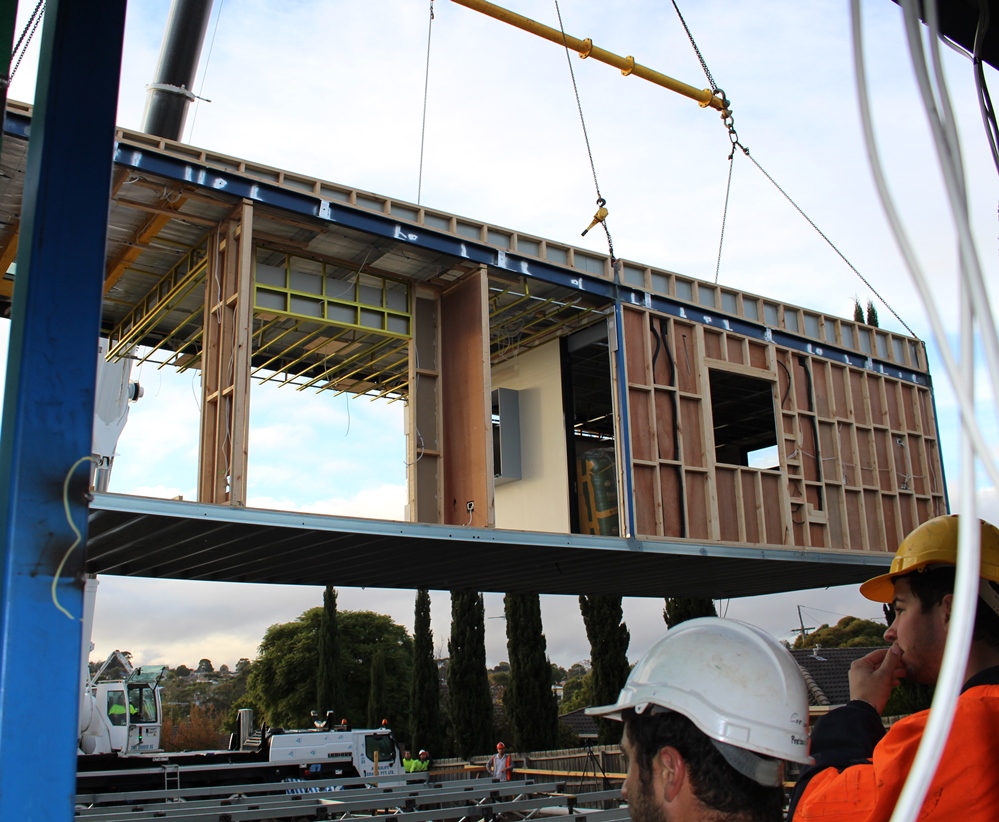 There were more than just eyes on the ground watching the installation. Prebuilt (our design and construction company) were recording proceedings from the air. We look forward to seeing their footage!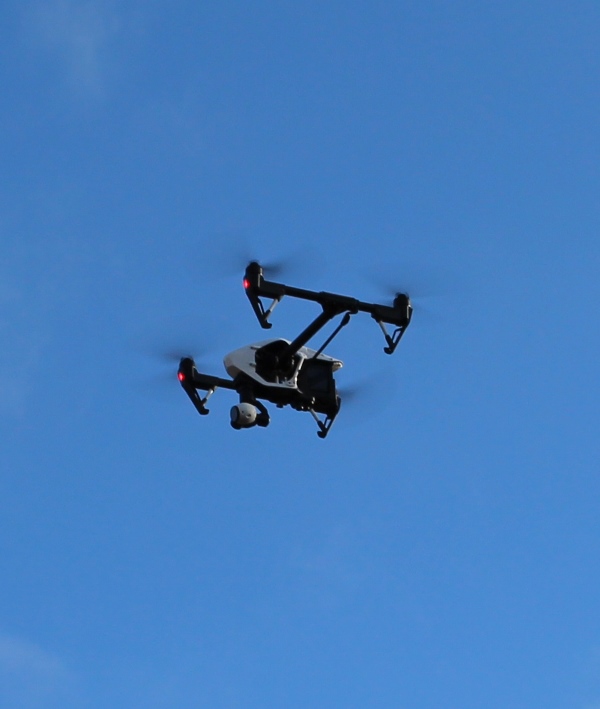 Never far away from the action, the St. John's Building Inspectors monitor all progress: Ken Hudson, pictured (and John Anderson behind the camera).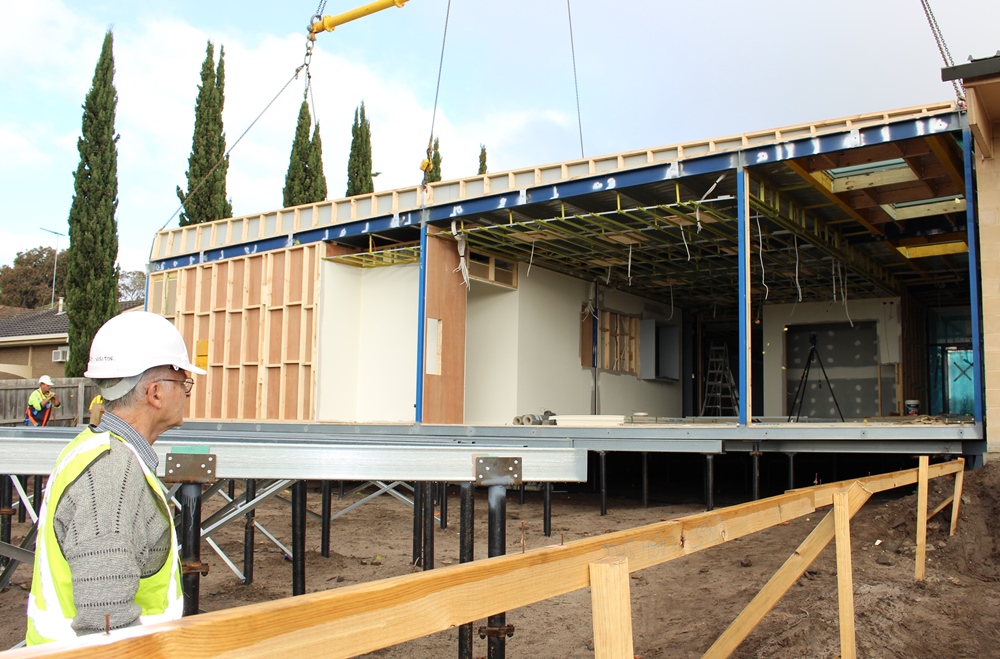 Enter our new entranceway. This is the all-important piece of the jigsaw linking up new and old, linking up the church auditorium with the Hall, Kitchen, Toilets and office.
Lots of glass and highlight windows means a bright and roomy feel within the various sections of the new building. Notice the large window looking from the conference room area towards the carpark. Compared to previous, it will be so much easier now for visitors to find the front door and to make contact with people. Just what a church should be working hard to do: connect people with each other and God.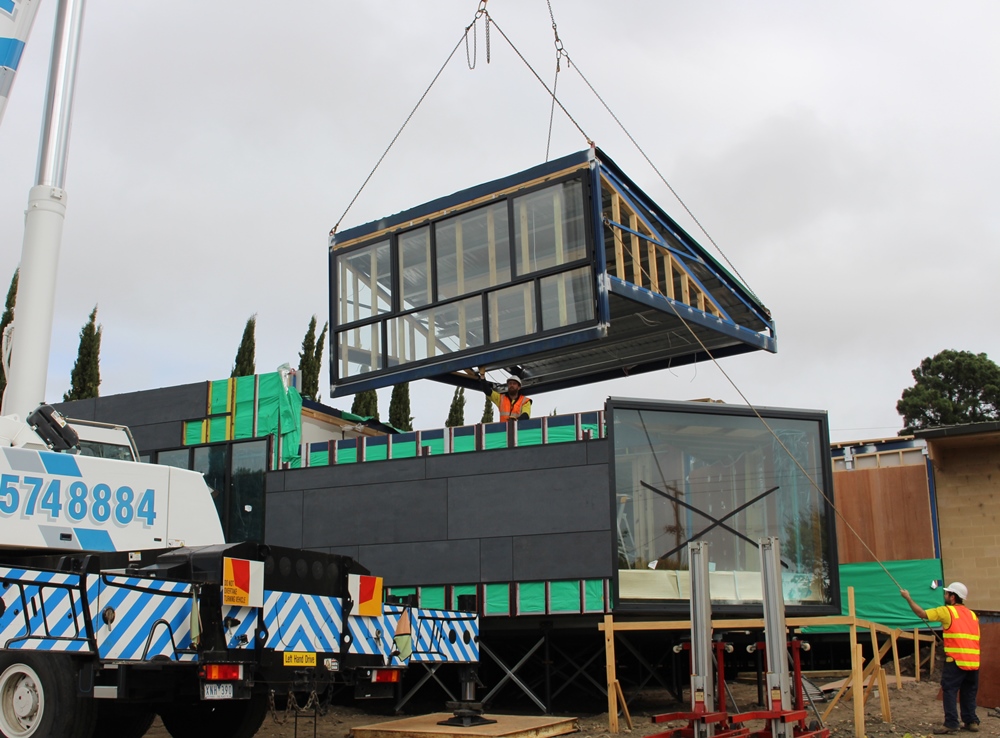 A view along the southern fence straight through to South Valley Rd. Notice that the building is all one level. No more steps to navigate up for those with limited mobility. One level makes for much improved movement around the site. You can also see the plumbing pipes underneath: water has already been connected up!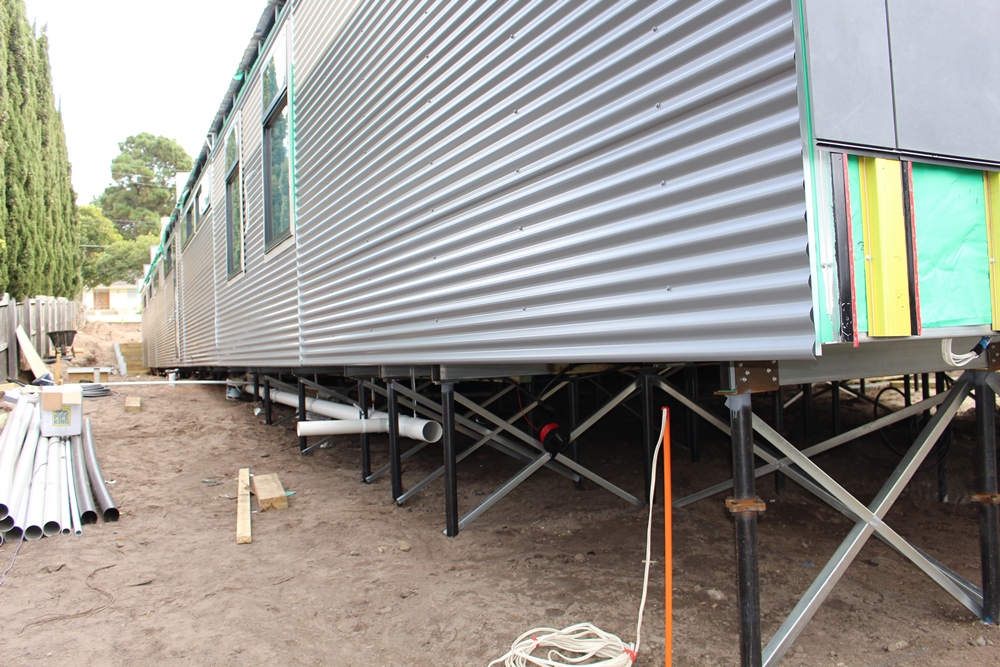 The full set of modules are in. The installation crew have completed their work. There is both relief as well as excitement (with many onlookers dropping by to watch the installation action).
The last remaining unit to be fitted is the entranceway canopy (with some final decisions being taken shortly to address this). The canopy will join up and complete the roof lines from the existing foyer to the new foyer. We expect it to complement and highlight this front door to our church community.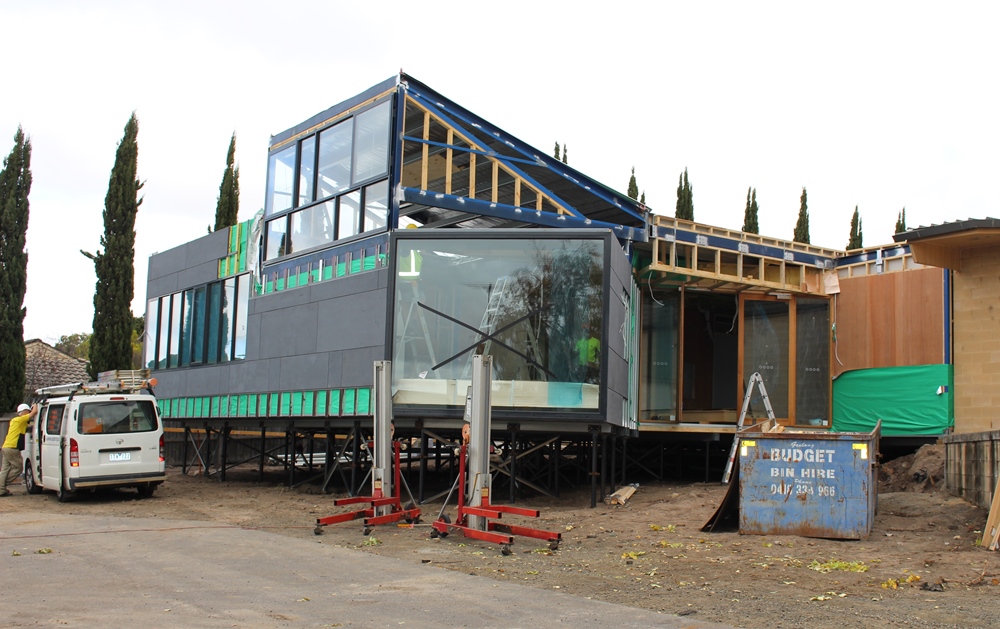 Following these two frenetic days of work, the Prebuilt crew and contractors now change gears to a steadier pace to complete the remaining details. And there are many remaining details, including:
concreting work: paths, ramps, steps, carpark curbing etc.
fitting the internal acoustic plastering,
some external cladding to be completed,
the carpark is due for bitumen sealing,
a whole site landscape gardening plan to begin,
and the myriad furnishings and fittings to come.
Much to do, but the plan remains on track and on budget: Our plan from months ago had the modules being installed today: we're on track to the day! Isnt it amazing that in 14 weeks a whole site can be transformed like this?
A quick peek inside the Hall yesterday shows a huge, well lit space with some beautiful deep cupboards. Notice the operatable walls (behind the blue packaging). The Hall opens out into a covered walkway (some call it a cloister), which itself flows immediately into the courtyard: at the same level, and covered with astroturf: perfect for kids. Our basketball ring is also returning around the end of the Old Church. But more of this in coming weeks.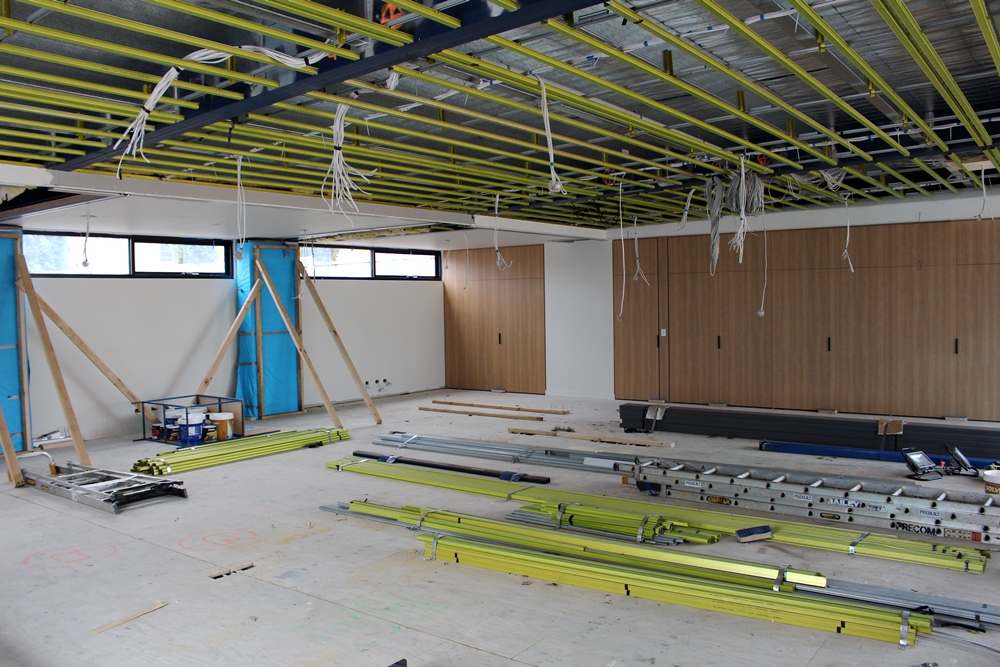 Praise God for this excellent work, in what we pray will be a site filled with excellent gospel ministry: building men and women, boys and girls to know, love and serve Jesus their lifelong.
Should you be interested, we are still needing to raise the final colspan='1' $95,000 for this $2m+ project. Are you in a position to contribute? If you are, our Building Project direct debit form is here, cheques and other donations can be received at our church office, or you can contribute via the Offertory collection process at church on Sundays at Christian College.
We're on track to have our first Sunday meeting in these new buildings on either 24 May or 31 May.
---
The first half of our new buildings are now in place
Posted by St. John's Highton 22nd April, 2015

On time, on schedule, on budget and on cue the first five modules of our new buildings have now been delivered and placed in position.

Some early-risers were on hand to greet the buildings which travelled down from Melbourne overnight, arriving on site after 5am.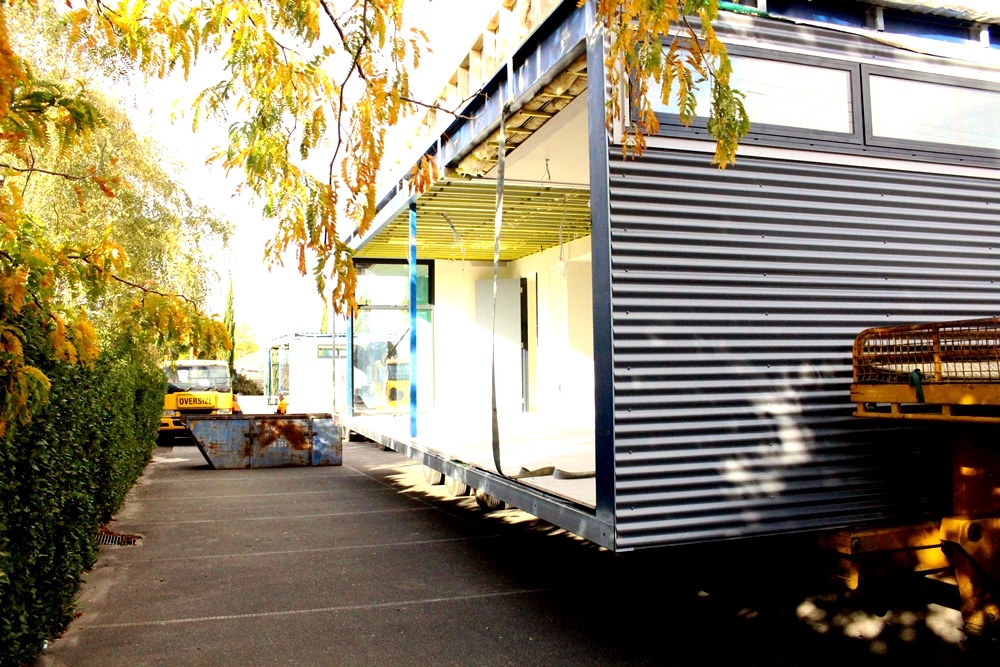 By 11am the first three modules had been craned into place, beginning with the Parents Room.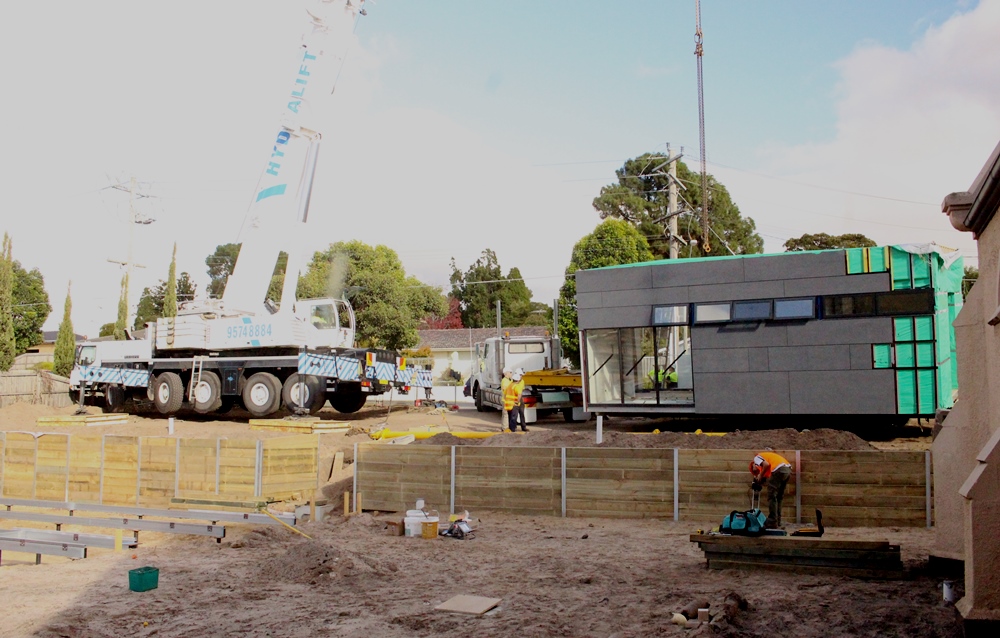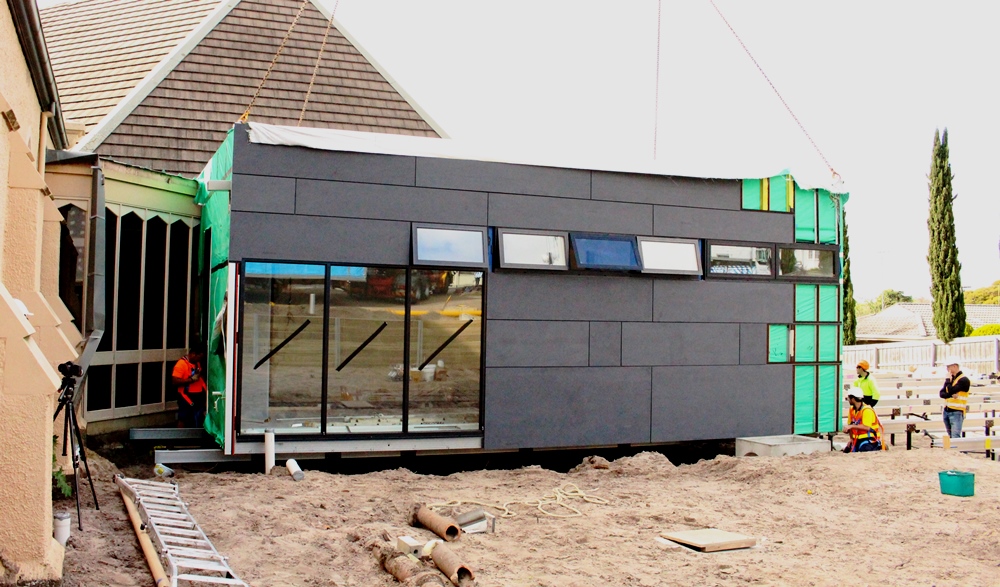 After so many months and years of planning, it was exciting to see these modules so effortlessly picked up and within minutes positioned in place.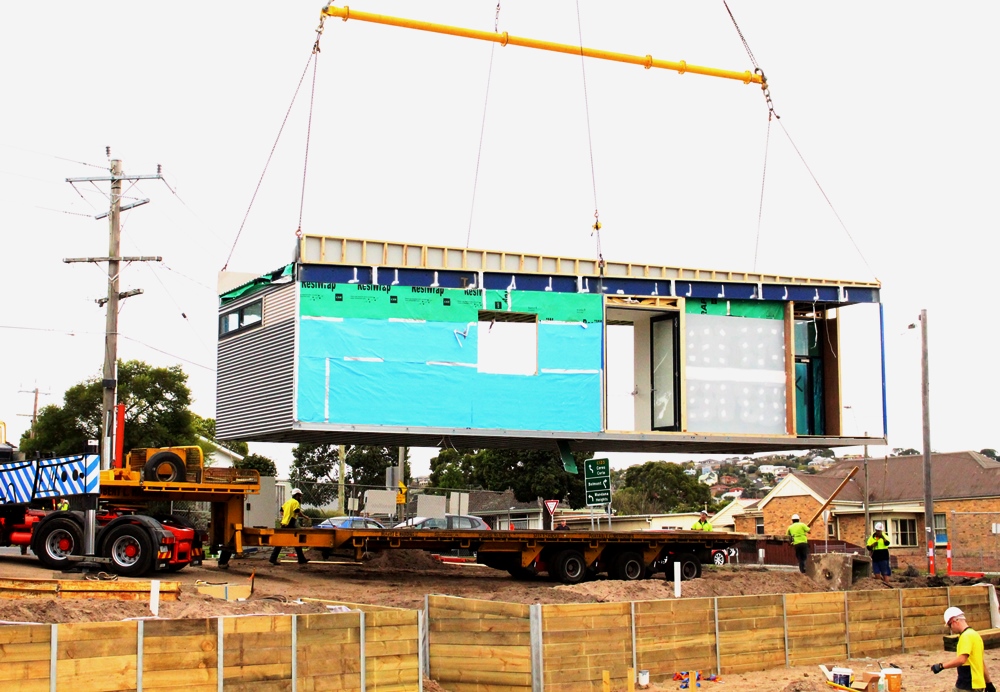 New Hall arriving in pieces and being positioned togetherfrom St Johns Hightonon Vimeo.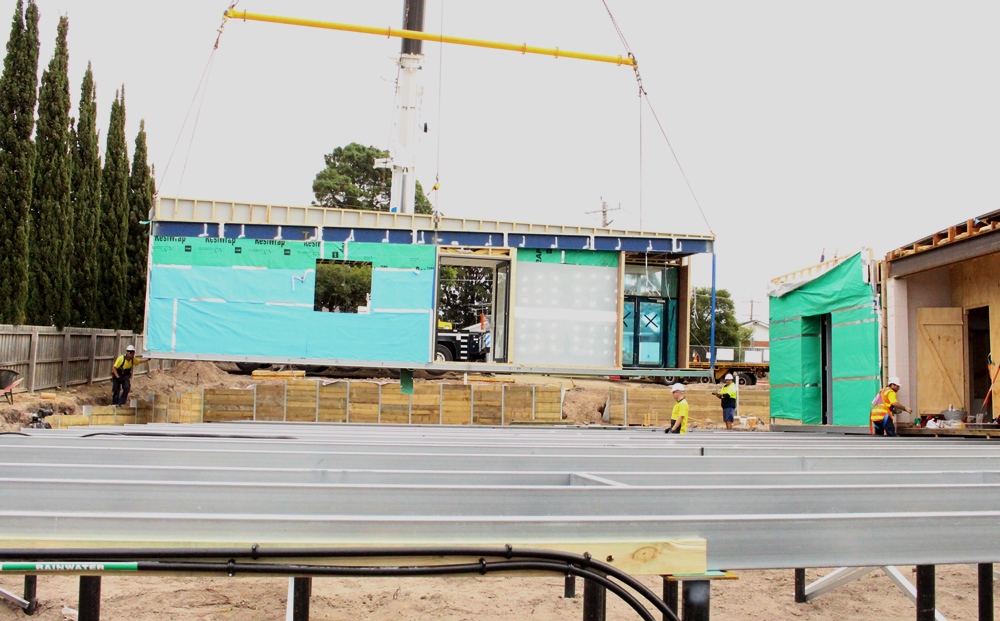 After the parents room, the three Hall modules were unloaded. Above is the first of these pieces.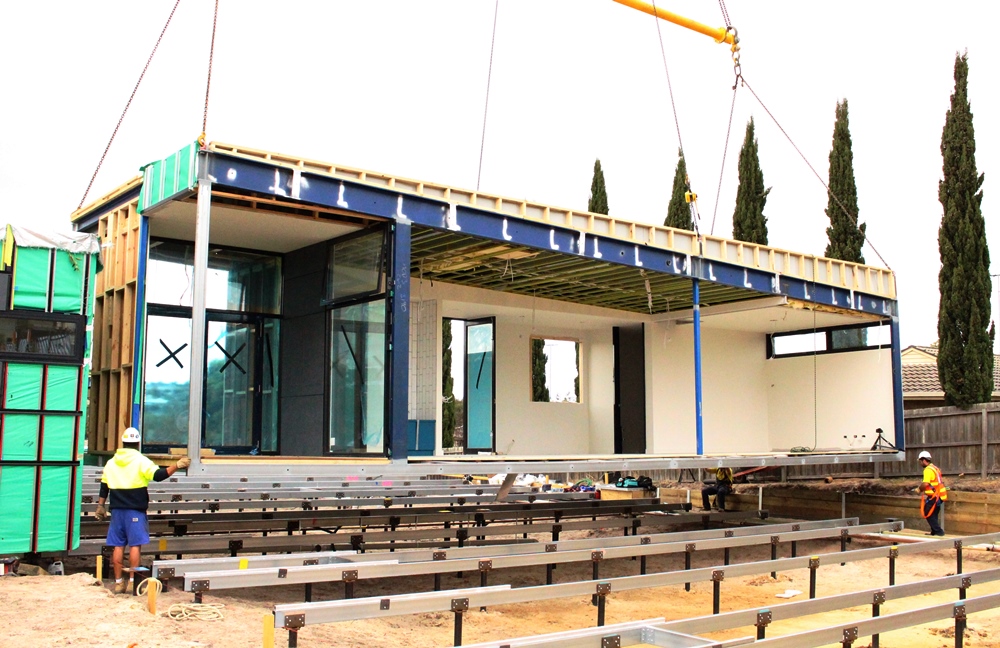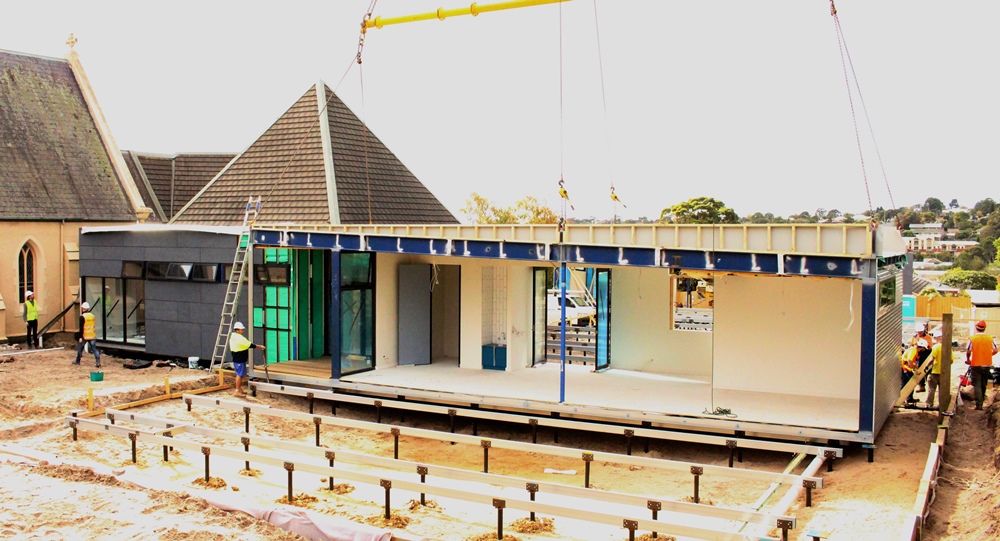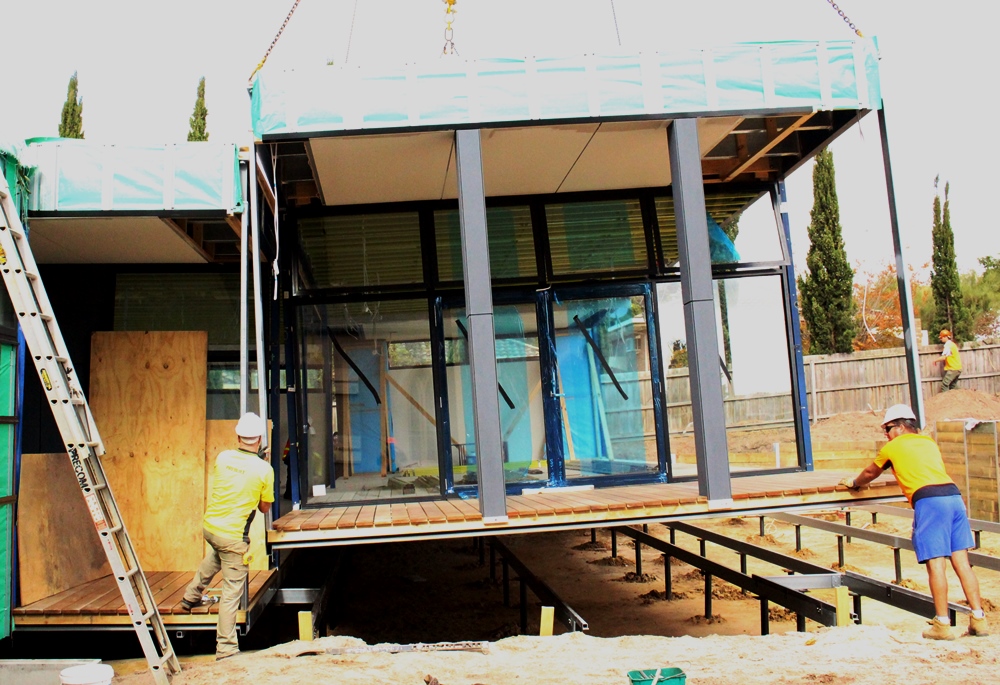 Below is the final Hall module coming off the truck and being slotted into place.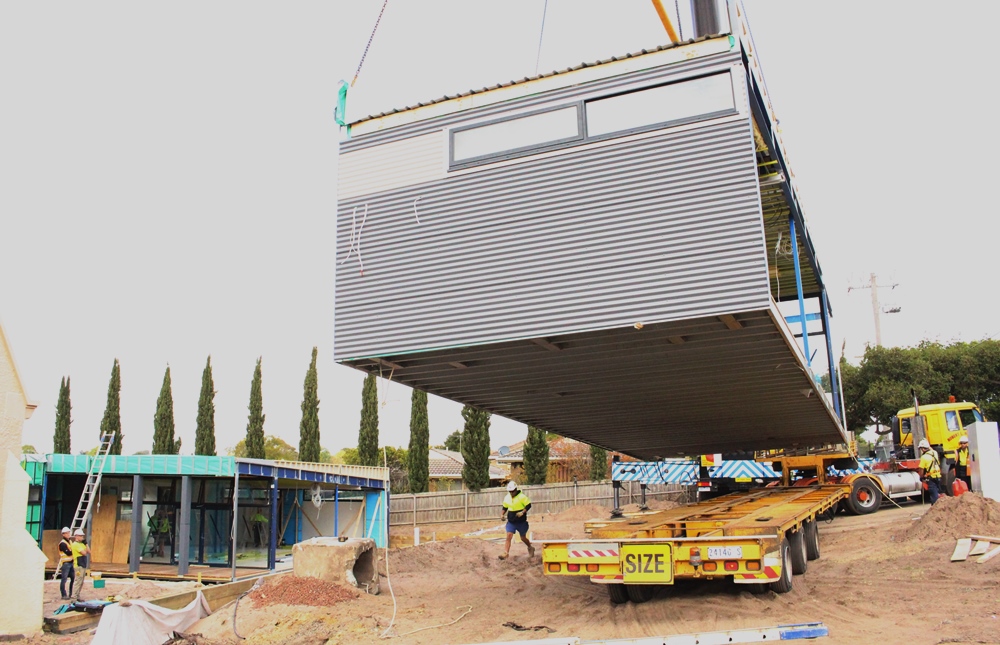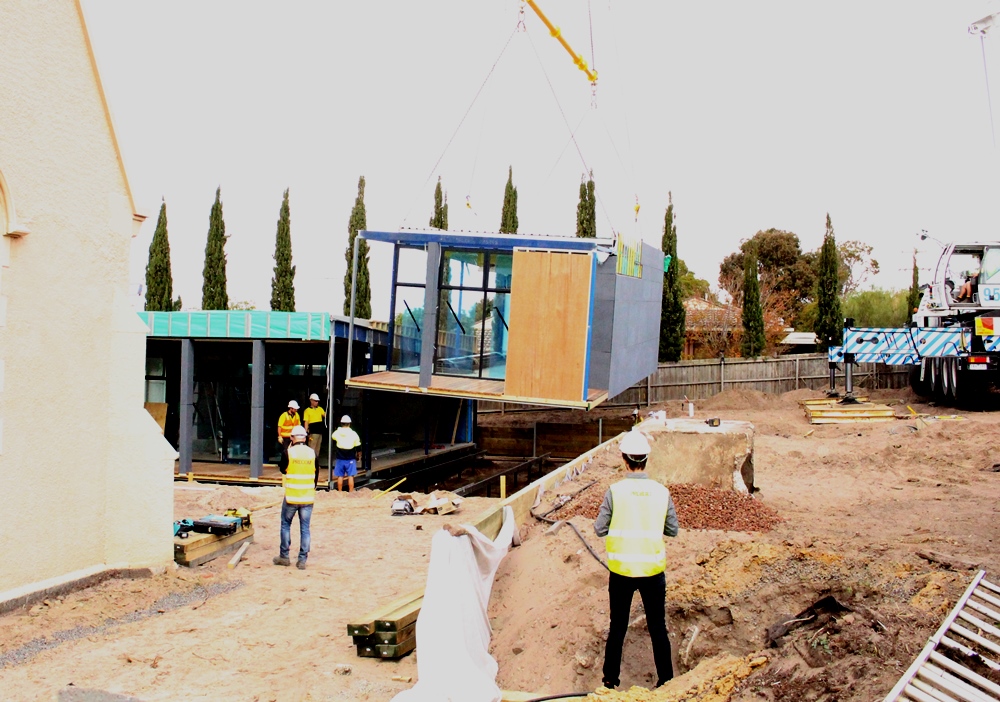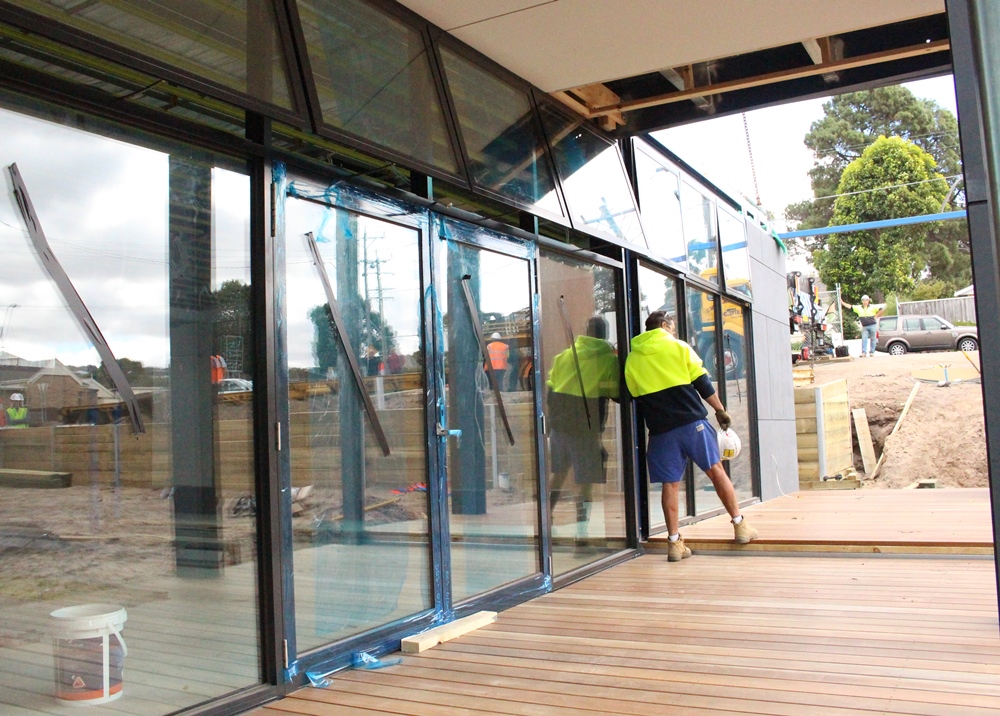 And there you have it. A brand new Parents room and Hall in position - as simple as that!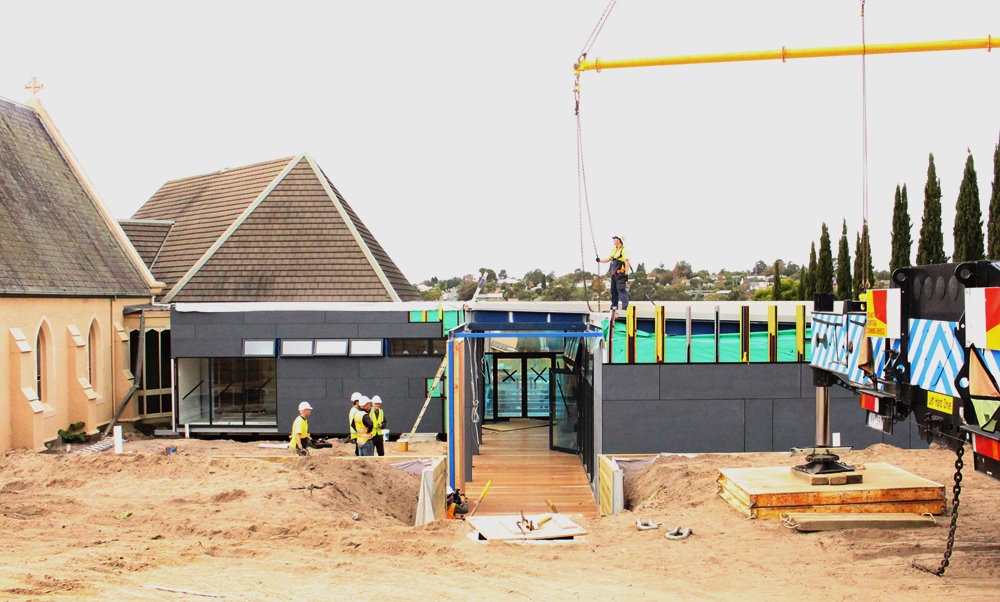 Tomorrow the crane will unload and position the final four modules.
Praise God for this great progress! If you're interested in more of the work and plans that have led this day, have a look at our Building Projectpage.
---
Buildings are loading!

Posted by St. John's Highton 21st April, 2015

The site is now in readiness, and the Prebuilt buildings are being loaded ready for transport and delivery across Wednesday and Thursday. Exciting times!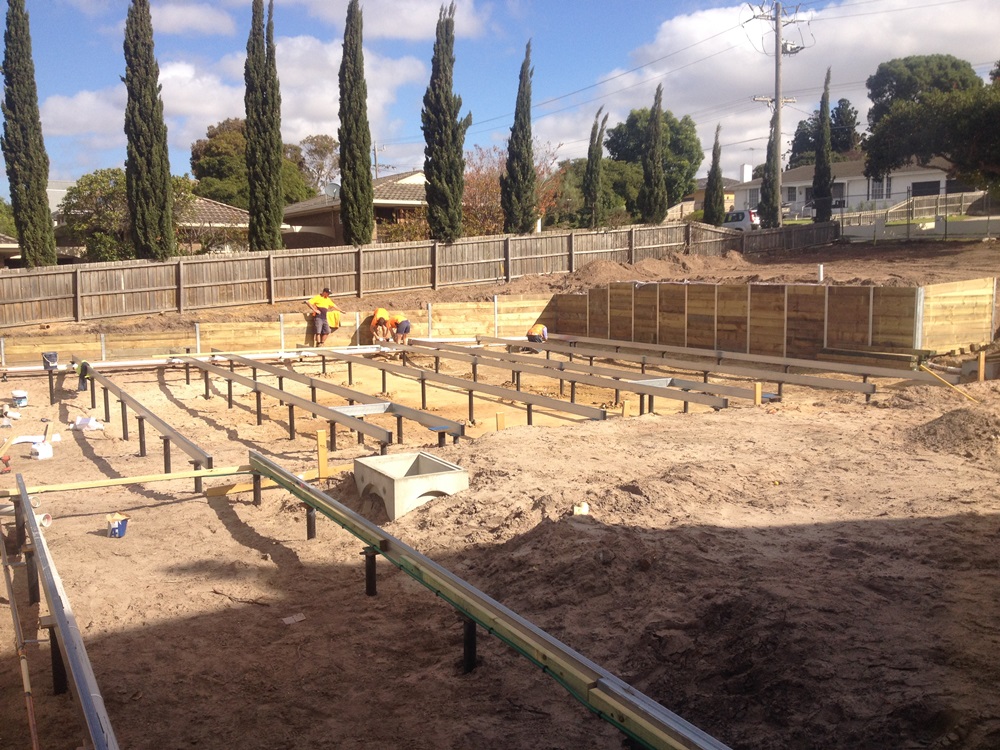 In total there are 9 modules for transport, five of these are arriving and being installed on Wednesday, the remaining four on the Thursday.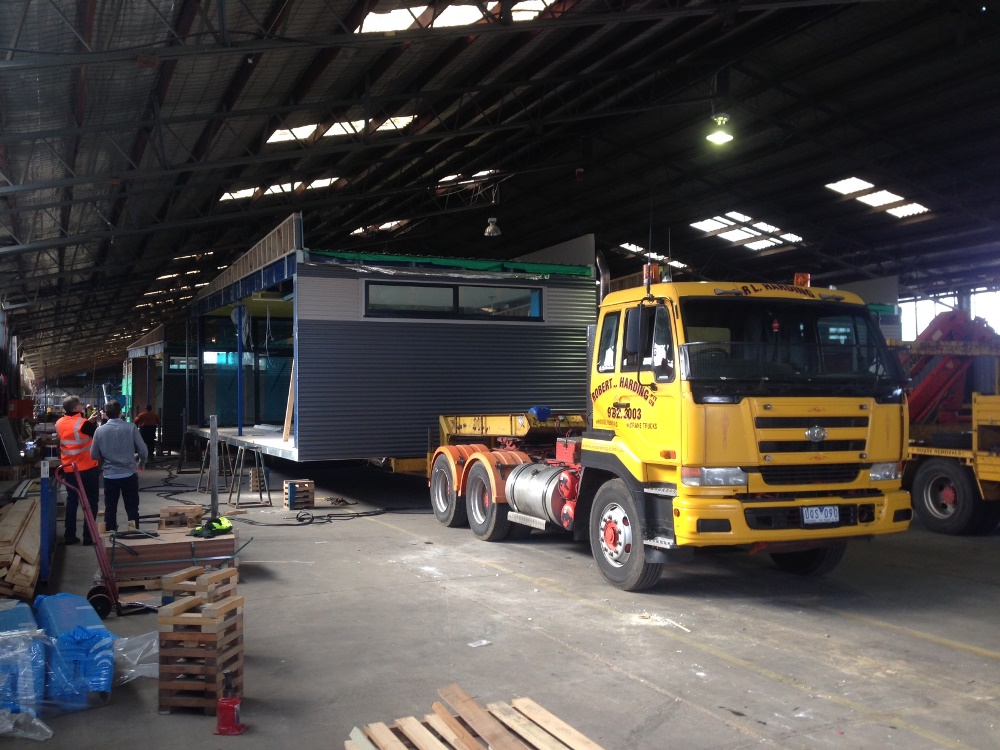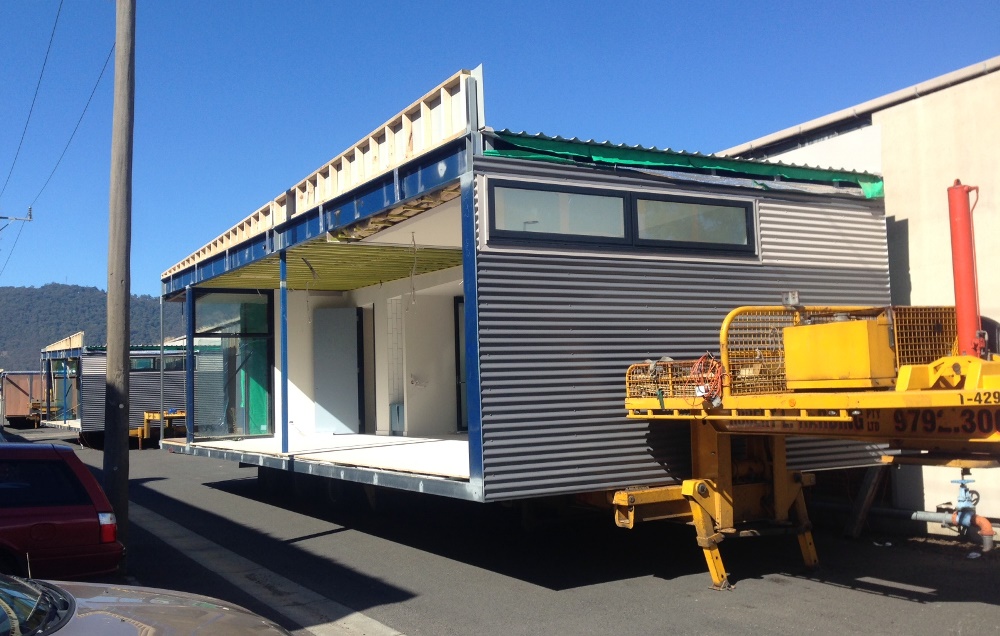 A complete set of photos before, during and after our building project is available on the Building Project page.
---
Site preparations are coming along

Posted by St. John's Highton 16th April, 2015

Just four weeks after the old buildings were demolished and removed, we're now really close to having all the foundation works complete, in time for the new buildings to arrive next week!

The new building will rest upon piles that have been screwed down into the hard soil foundations. Metal bearers are affixed to these.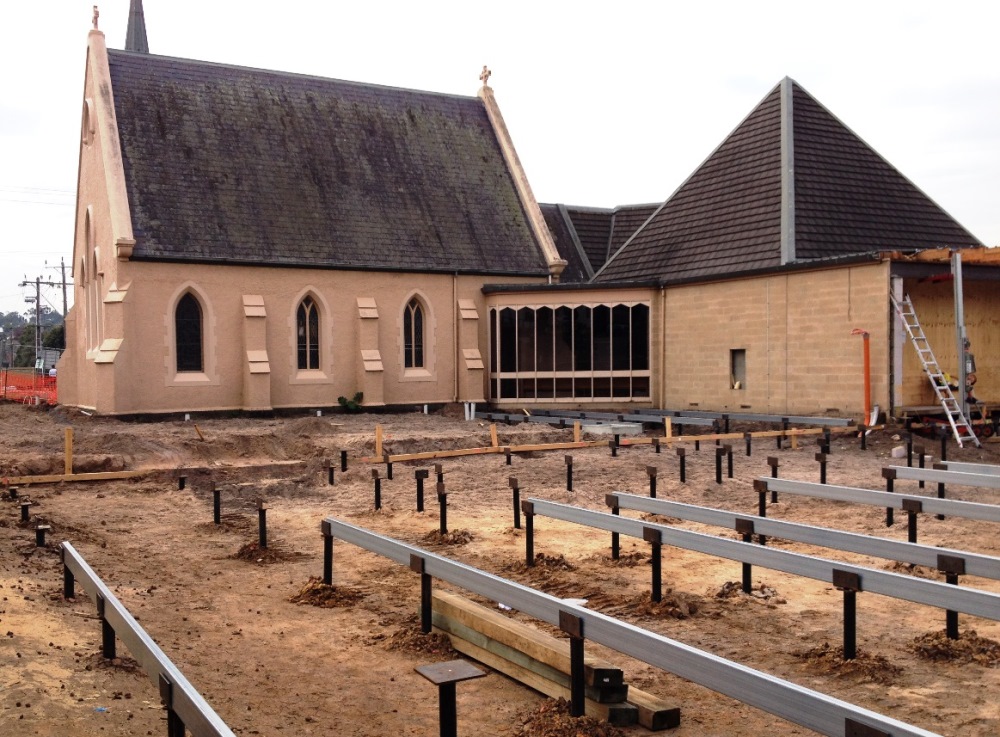 You can see more of the site preparation works on our Building Project page.
---
Going, going, gone!
Posted by St. John's Highton 17th March, 2015

The demolition team are (amazingly) almost finished their work. The old Hall is now practically removed, as are the kitchen, toilets and foyer.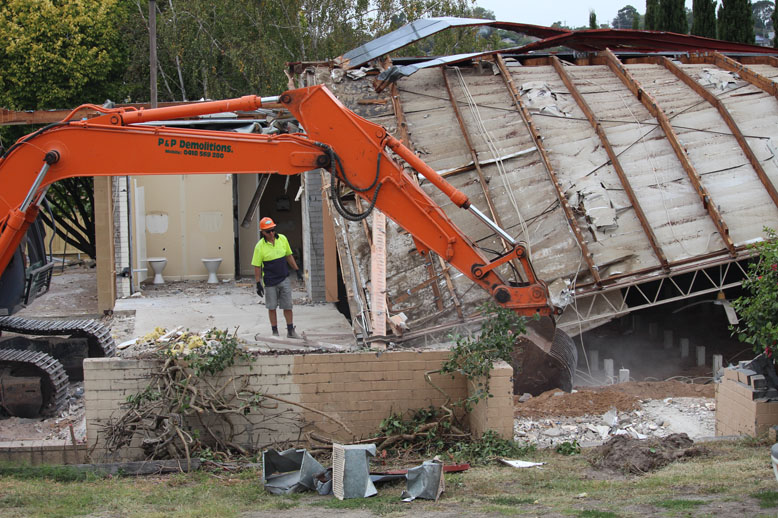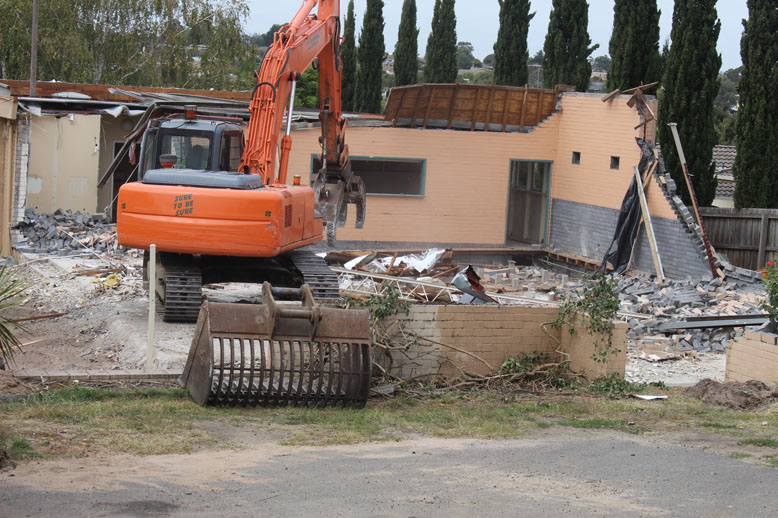 You can see more of the demolition works on our Building Project page.
---
Share your faith
Posted by St. John's Highton 6th March, 2015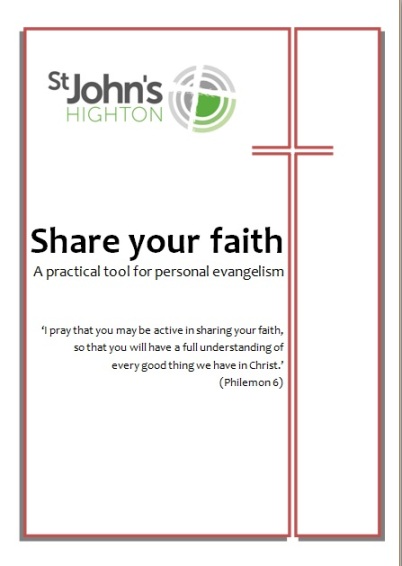 Which year isn't a good year for a church to be working on sharing our faith in Jesus with those we know and love? The apostle Paul encourages Timothy to be declaring the good news 'in season and out of season' (2 Tim 4:2), in other words its always a good time! But that being said, sometimes the concentration which comes from a particular effort helps to re-set and re-energise.
Accordingly, we're setting ourselves to make a particular effort this year, 2015, in sharing our faith in Christ. Whether you call it mission, evangelism, witness, outreach, or more generically 'sharing our faith', we're aiming to do all that we can to re-energise one another to be all the more equipped, ready, will and actually practising sharing the gospel.
To help, we're embarking this week on a three week teaching series called 'Share your faith'. Over the next three Sundays we'll consider three distinct motivations that spur on our witness. Midweek in our Small Groups, we'll be working through a studies booklet (called by the same name), which contain Bible study questions directing us to think above evangelism according to history, to logic and to us. Following each study are a series of practical exercises (such as a mission action plan) that challenge us to put what we're learning into practice.
May the Lord grow us in our ability and willingness to be ready and able to speak up for Jesus!
Share your faith study booklet.
---
Watercooler Witness
Posted by St. John's Highton 5th March, 2015
98% of church members spend 95% of their time outside the church: what a massive mission field to explore and to make the most of! But what is the way we will engage in order to commend Christ? This is the key situation and question Ken Barnes brought to us and went on to address in our recent Watercooler Witness night here at church.
Ken, together with Kara Martin (who was a St. John's member some 20 years ago!) are from the Ridley Melbourne Marketplace Institute, and their aim is encourage Christians like us to share the good news of Christ in the many public settings we find ourselves in (workplace, school gate/canteen, probus club, footy team etc).
So what is the way to engage those yet to trust in Christ?
Having outlined different approaches to engaging Christians have taken, and citing Paul's speech in the Areopagus (Acts 17:16-34), Ken went on to commend an approach which lovingly seeks both to affirm and to challenge the hearer.
You can hear the talk and consider for yourself how you think you might best commend the good news of Christ Jesus. The links for both are below:
WaterCooler Witness Ken Barnes.mp3(1 hr and 20 mins duration; file size 76Mb)
WaterCooler Witness handout.pdf
We thank God for Ken and Kara's generosity and willingness to join us for the night. We pray that God might use us to more eagerly engage and share our faith in the Lord Jesus.
Postscript: The paper that Ken wrote, upon which this talk is based, is online and available from the Ridley Melbourne Marketplace Institute. The links for the paper are found in the post, Witness at the Water Cooler.
---
Sweet dinner!
Posted by St. John's Highton 18th February, 2015

Last night a good number of us shared in a sweet dinner, Pancake Tuesday. Picture pancakes piled high, topped with ice cream maple syrup and some token fruit pieces to give the impression of a healthy dinner. Great fun for the kids - with some egg throwing competition making it interesting. Some laughs too for the grownups with a little music trivia, picking the classics from the seventies to the noughties.

You might conclude 'lots of fluff!' But we also enjoyed some substance, with  Will opening the Bible for us and reminding us that Jesus comes not to spoil, shrink, or put the handbrake on life but to promote real life. And the way Jesus most promotes real life is by providing it through the laying down his own life. '...Jesus showed his glory and his followers believed in him' (Jn 2:11)

Praise God for fun nights together.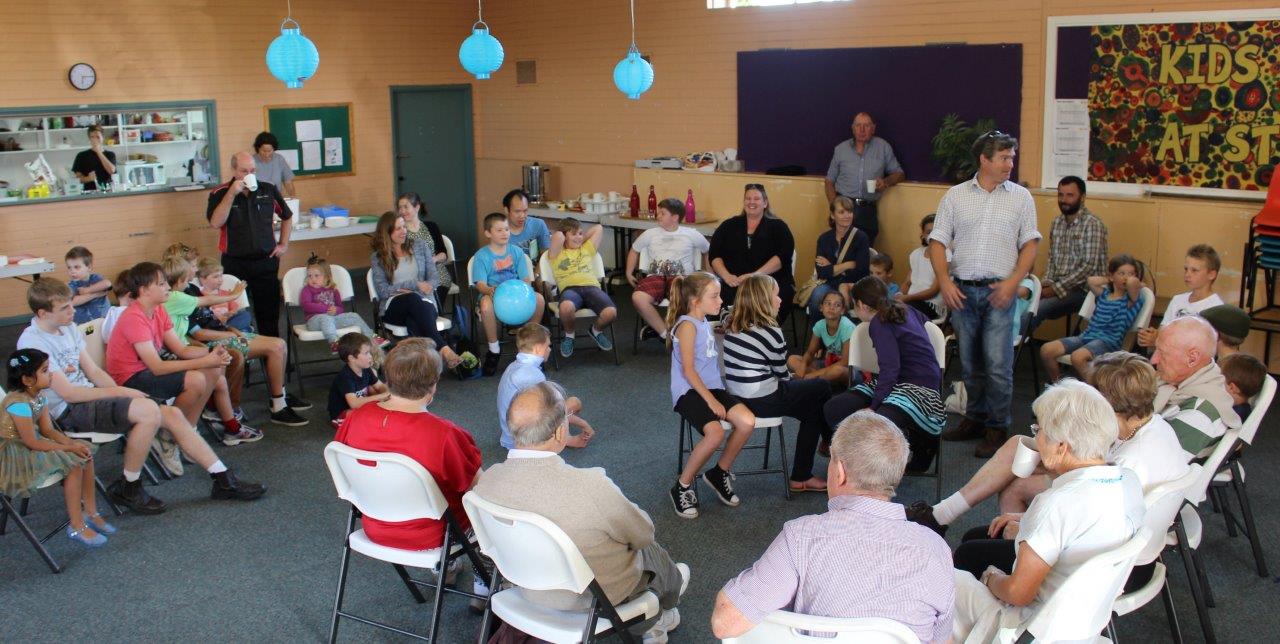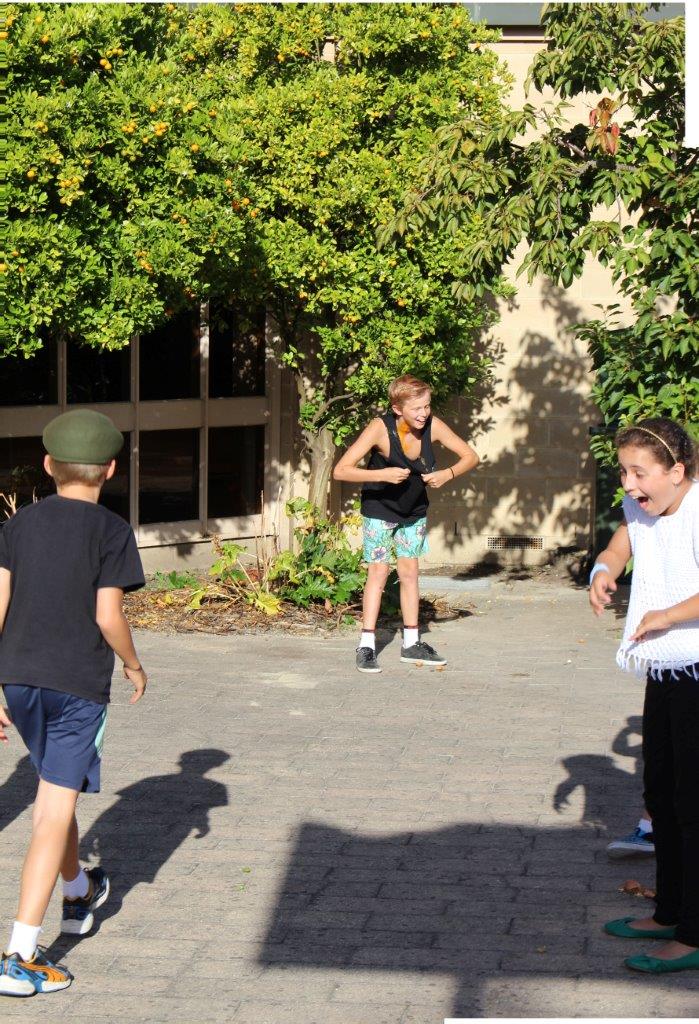 ---
A community celebrating Christ at Christmas

Posted by St. John's Highton 30th December, 2014

With a bumper crowd at Carols in the Park and many from our local community attending a service, this Christmas at St. John's has seen our community coming together to celebrate Christ. Praise God for Christmas! Read on for some of the sights, sounds and highlights.

On a beautiful summer's night at Carols in the Parkwe were joined by locals, the MicMacs, Shandelle Cooke and our own St. John's band, for a night of singing of the Saviour.
Our Christmas Eve kids service, Jesus Birthday Party, returned with much warmth, joy, fun and dancing. Its always a treat to welcome a number of families returning to Geelong for Christmas as we were able to do again this year. From the Bible, recalling how the angels always reassure those they speak to, "don't be afraid", we were reminded that we don't need to be scared to love and follow Jesus. How important for the little ones of our community to know this love of Jesus.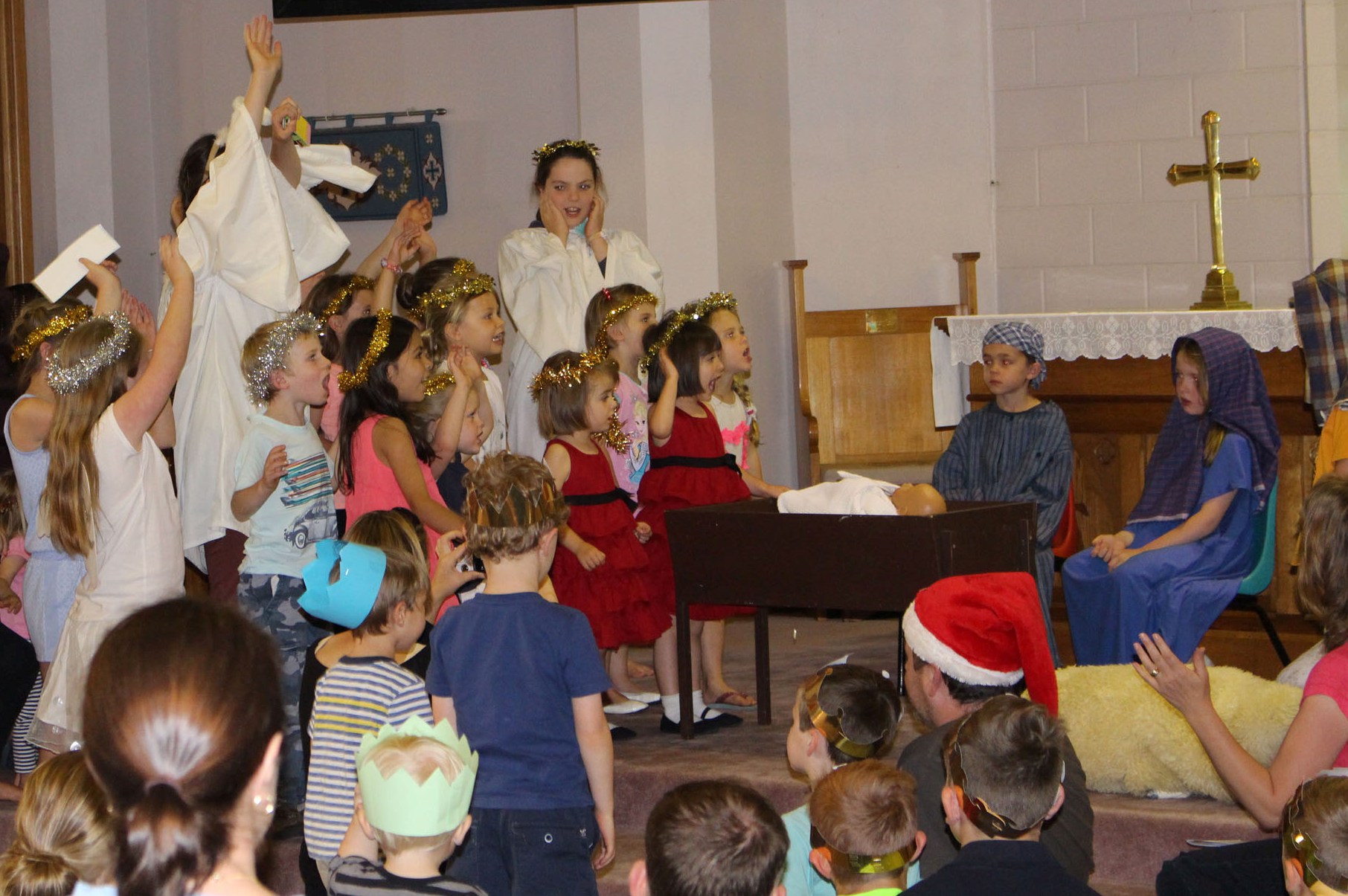 Later in the evening The Big Christmas Gigfor high schoolers made its debut appearance. While some were a little nervous with our messy games (including 'put away your pudding'), we all appreciated our fine band – with their own Like-A-Version takes on Jingle Bells, and we took a moment to consider the joy Jesus brings and our response. We're already looking forward to such merriment again in 2015.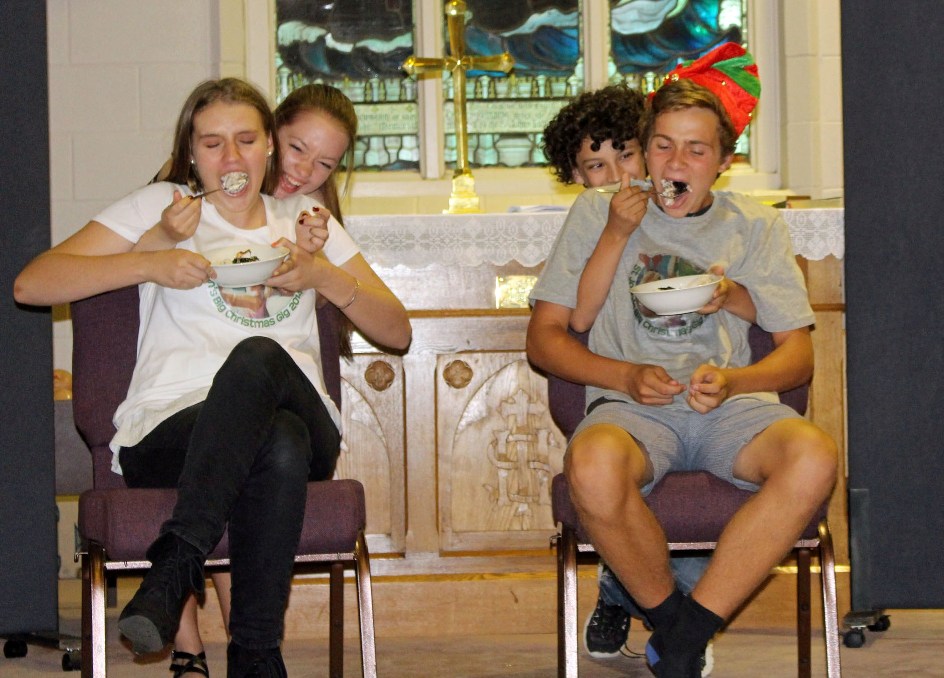 Our Midnight Christmas Eveservice had us consider that memorable moments of when the waiting was over: like when a loved one finally comes through the airport doors. The relief, joy, and excitement we know and value also apply to birth of Jesus – when God came to us. Accordingly we were treated to hear a four-piece play the Sovereign Grace song, Prepare Him Room, a song worthy of hearing again - below is the Sovereign Grace version:
Speaking of singing, our Christmas Day family servicerevealed some community talent: during our opportunity to meet, mingle and swap autographs (for one of the segments), we found some talented Christmas singing soloists. As they stood, they sung to us, in true 'carolling' form, the chorus of O Holy Night. What a treat.
Our Christmas messagefrom the Bible this year was from Matthew ch 1: the truth that 'the time has come!' For all the preparation and the many generations waiting, the birth of Jesus saw the moment that God came in human form to save us. The time of God's salvation is now. Hearing this, we also considered how we, like Mary and Joseph, can find ourselves unprepared to receive Jesus. Hence the question for us all: are we willing and ready to receive Christ this Christmas? In the words of the Sovereign grace song,
'Oh, our hearts, as busy as Bethlehem
Hear Him knock, don't say there's no room in the inn
Through the cradle, cross, and grave
See the love of God displayed
Now He's risen and He reigns
Praise the Name above all names!
Prepare Him room
Prepare Him room
Let the King of glory enter in.'
(Sov Grace Music)
May God give you much joy as you look to love and follow Christ.
---
The Big Christmas Gig
Posted by St. John's Highton 1st December, 2014

This year we're excited to welcome a new Christmas Eve celebration service - especially for those in high school and those on their way to it. Its called the Big Christmas Gig, and promises to be a upbeat and lively way to bring in Christmas.

We're working towards a bit of friendly Christmas competition, lots of music and singing with a touch of Christmas dressups too: wear a Christmas Mo or a Christmas Hat.

We love the joy of Christmas, and we want to share it around. So grab a flyer (click on the image to the right), share our FB post #TheBigChristmasGig and come along. Christmas Eve Dec 24 7pm - 7:45pm.
---
Next set of classics now available
Posted by St. John's Highton 8th November, 2014

This year we're setting ourselves to read through some of the absolute classic pieces of Christian wisdom from the ages.

Our next set of articles are now ready for reading (available here) and include some great Anglicans in history, including Thomas Cranmer's Preface to the Great Bible as well as John Owen's classic on the reason and result of Christ's death. We're also reading the haunting Bonhoeffer poem Who Am I?. And more from George Whitefield, John Chrysostum, and John Dryden.

Read the articles and then join in the discussion over a simple dinner on Tuesday Nov 18th 7pm for dinner (gold coin donation). Find all the articles here. Happy reading!
---
Making sense of suffering
Posted by St. John's Highton 3rd November 2014

'The Lord gave and the Lord has taken away; may the name of the Lord be praised'(Job 1:21).

Of all the tensions and troubles we have concerning the presence of evil and our experience of suffering, none is greater than the issue of God's justice: How can God really be good when he oversees and permits evil and suffering? How can God really be in control and not accept some of the blame for evil? And even as we attempt to come to terms with God and evil and suffering more broadly, so we also face the daily details of how trouble takes hold of us.

The book of Job tackles some of the most pressing and perplexing issues of all of life, bringing us face to face with the reality of suffering, of life and death. And it does so not merely in some abstract and philosophical way. More importantly, it does so without simply offering glib answers.

The book of Job addresses the mystery of suffering without having to solve it. It both explores the dynamics and protects the limitations on our understanding, ultimately pointing us to "the sufferings of Christ and the glories that would follow" (1 Peter 1:11).

Come and join us on Sundays for our Job series through November, and read along with our Daily Bible Reading notes, their questions for consideration and suggestions for prayer. DBR notes available here.